- Network Services -
SD-WAN
Telesystem's SD-WAN solution enables businesses to re-architect their WAN and branch office networks through a software-based and multi-service approach to SD-WAN, allowing them to reduce the Capex and Opex of their WAN and branch networks, and increase the capacity of their IT teams.
The next generation of network connectivity
With Software-defined Wide Area Networking (SD-WAN) from Telesystem, businesses can take control of their network by reducing complexity and costs and improving application performance. SD-WAN provides companies increased network visibility, application-level insights and the ability to optimize traffic routing all centrally managed and maintained by Telesystem. Additionally, SD-WAN allows branch locations to leverage bandwidth intensive applications that were previously only available to larger offices, while multiple layers of security protect against Internet and branch cyber threats.
Telesystem has leveraged a number of strategic partnerships to develop Managed SD-WAN solutions for any size business, with a full range of SD-WAN and security features, customized to fit their business, budget, and network needs.
- WATCH THE VIDEO -
SD-WAN 101
Learn about the types of networks, how SD-WAN works, and why todays business needs are driving the need for a networking revolution.
SD-WAN is the best way to build and manage long distance networks. Watch the video to learn more.
How does SD-WAN work?
Telesystem's SD-WAN solution enables businesses to re-architect their WAN and branch office networks through a software-based and multi-service approach to SD-WAN, allowing them to reduce the Capex and Opex of their WAN and branch networks, and increase the capacity of their IT teams.
Our fully managed solution turns the network into an agile resouce through a software-based approach that allows Telesystem to rapidly provision new branch offices, dynamically add new network and security functions, and seamlessly scale capacity as required.
Software-defined wide area networking adds a layer of software on top of the existing network to automate the configuration of edge routers and direct traffic over a mix of wireless and broadband network access.
This solution allows Telesystem to set up dynamic policies that direct your traffic over the best path available based upon application priority. If a business experiences a high-traffic situation, SD-WAN offers a real time network solution and better customized management of traffic across the network.
Features + Benefits of SD-WAN
More transport options: What if there were multiple alternative routes available to drivers caught in a hypothetical network traffic jam? SD-WAN delivers such a benefit to applications on your network, through its support for commodity broadband, cellular (e.g.,

4G LTE) connectivity and dedicated internet access, in addition to MPLS - reducing reliance on private MPLS only links.


Reduced Costs:

Because of the ability to use alternative transport types, your company experiences reduced WAN costs and scaled capacity through the use of lower-priced broadband connections.


Automated decision making: Like Waze or Google Maps, an SD-WAN controller is always searching for the best possible routes. It might send traffic down a public or private connection depending on the current state of the network. The underlying transport does not matter as much as the path quality for your most demanding apps.


Enhanced security: With many everyday services moving to the cloud, it's important to have peace of mind that their workloads are as safe as possible from interception and data leakage. SD-WAN solutions provide encryption alongside various security integrations that protect cloud-bound traffic.


Centralized network visibility and management: SD-WAN is essentially a software layer that automates the configuration of all edge routers. As such, it offers comprehensive insight into network conditions and enables quick, easy configuration as requirements evolve. Management is more streamlined compared to the lengthier, more ad hoc processes associated with MPLS-only WANs and network services can easily be aligned to user and application needs to support bandwidth intensive applications and workloads. Greater visibility also means maintained connectivity for improved business continuity and disaster recovery capabilities.


Improved branch deployments:

Improved application performance and quality of service for remote and branch workers along with the ability to add new locations without a lengthy deployment window. SD-WAN also offers reduced complexity & maintenance with simplified remote office CPE requirements.
- FROM THE BLOG -
Everything You Need to Know About SD-WAN
In previous WAN paradigms, MPLS was preferable not only for its performance but also because it was the only sufficiently secure option for network transport. SD-WAN changes that, by making broadband suitable for use in mission-critical workloads, as well as in lower-priority ones.
A Solution built for you
Telesystem has leveraged a number of strategic partnerships to develop Managed SD-WAN solutions for any size business, with a full range of networking and security features, customized to fit your business, budget, and network needs.
SD-WAN with Versa Secure
Our partnership with Versa Networks enables Telesystem to provide full-feature SD-WAN, comprehensive integrated security, scalable advanced routing, genuine multi-tenancy, and sophisticated analytics.
Versa is unique among Software-Defined Networking vendors, providing an end-to-end solution that both simplifies and secures the WAN/branch office network. Based completely on software, Versa Secure SD-WAN delivers a broad set of capabilities for building agile and secure enterprise networks, as well as highly efficient managed service offerings.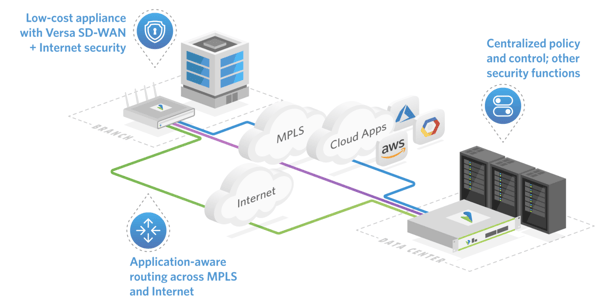 IDEAL FOR:
Versa Secure provides a combination of SD-WAN and multi-layered security that is optimal for companies who need to utilize multi-cloud connectivity such as AWS, Microsoft Azure and Google Cloud Platform from a centralized and secure location, or in a distributed model where every branch location receives direct and optimized cloud access with security
KEY FEATURES:
Improved Connectivity - Increase your bandwidth and cloud experience, improve flexibility and decrease cost of legacy WANs
Enterprise-Grade Security - Features next-generation firewall (NGFW), and unified threat management (UTM) services that protects application and user activity across the enterprise WAN, branch, and provide/public clouds.
Scalability - Enable secure, scalable, and reliable enterprise-wide networking while increasing multi-cloud application performance and dramatically driving down costs.
Analytics - Real-time and historical visibility, baselining, correlation, prediction, and closed-loop feedback of your network. Analytics data provides policy driven data logging, real-time and historical traffic visibility & anomaly detection, reporting for multiple network and security services.
SD-WAN with Cisco Meraki
Applications are now hosted in multiple locations: the data center, IaaS, and SaaS providers – and are accessed in multiple ways, including direct Internet access. One of the key challenges to maximizing performance in such a multi-hosted environment is that organizations do not have ownership or direct management of public cloud environments, or the transit to them.
With more business-critical traffic becoming cloud-centric, the need to intelligently maximize SaaS application quality of experience (QoE) is emerging as a vital expectation of SD-WAN.
IDEAL FOR:
Cisco Meraki is ideal for organizations with sites who are reliant on apps served by SaaS, IaaS, or data-center locations who need fully featured unified threat management. Meraki will significantly reduce total WAN costs and deliver the desired level of performance for VoIP and business critical cloud applications.
KEY FEATURES:
Simple Deployments

- Rapid deployment allows the quickest and simplest way for organizations to significantly reduce their total WAN costs and deliver the desired level of performance for VoIP and business critical cloud applications – no matter where they are hosted.
Natively Secure SD-WAN

- Natively integrated advanced security that includes next-gen layer-7 firewall, Cisco AMP with Threat Grid, Cisco SNORT IDS/IPS, cloud security, and content filtering – to confidently allow direct Internet access.
Advanced Analytics

- Supreme visibility into key factors that influence how users experience business-critical resources to identify any degradation and its root cause in a matter of minutes.
Unified Management Platform

- Single intuitive and centralized platform to streamline IT operations with visibility into SD-WAN as well as wireless, switching, security, cellular, and smart security cameras when using the full Meraki platform.
SD-Internet with Bigleaf
Our partnership with Bigleaf allows us to deliver truly reliable internet connectivity for every application, every technology, every user, everywhere—over any ISP. By combining proven SD-WAN technology with groundbreaking AI software, Bigleaf classifies and prioritizes application traffic, and steers it around internet issues so it can reliably get to and from anywhere it needs to go, all without the need for policies or manual configurations. With Telesystem and Bigleaf, IT leaders can finally ensure the same reliable user experience for cloud and internet technologies over the public Internet as they have for technologies hosted Telesystem SD-Internet in their private LAN and WAN.
IDEAL FOR:
Bigleaf SD-Internet is ideal for organizations that want to maintain control of their firewall appliance and rapidly deploy a solution to optimize Internet and cloud performance by dynamically choosing the best connection based on real-time usage and diagnostics, leveraging redundant connections for optimal traffic re-routing, failover and load balancing. Allow Bigleaf to automate QoS across your network by automatically identifying and prioritizing traffic for your business communications and applications and allow your team to focus on what they do best.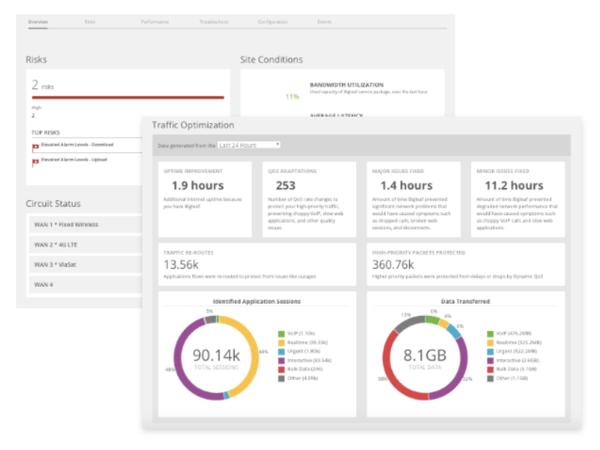 KEY FEATURES:
Resilient Connectivity - Bigleaf's owned-and-operated backbone network and plug-n-play router work together to deliver a resilient connection beyond your private LAN and WAN to and from wherever your traffic needs to go.

Instant Adaptability - Self-driving AI automatically identifies and adapts to changing circuit conditions, new traffic types, and traffic needs—fixing issues before they impact your users.

360 Visibility - Comprehensive dashboard visibility and actionable insights into your traffic and circuit performance over the full internet path to ensure performance and speed up troubleshooting.

Work from Home - Keep non-business web traffic, such as streaming video and gaming, and less reliable residential Internet connections from impacting your business communications and applications.

Simple Deployments - Easy to install, easy to manage, and easy to integrate into your existing stack. Routers arrive ready to go, install outside of the firewall and connect in minutes for a game-changing improvement in performance with little to no impact on your day-to-day operations.

Firewall-Friendly Design - Bigleaf installs outside your LAN, so you can leave your best-of-breed security solution in place, without disabling any of its features.

Improved SaaS Performance -Bigleaf's Cloud Access Network peers with over 150 different cloud, content, and carrier networks that are co-located with the most popular SaaS and Cloud Storage providers such as AWS, Google Cloud, and Microsoft Azure, bringing you closer to the data you need to access. Add auto-failover, and Dynamic QoS and let our system provide the foundation to get better reliability and performance for your company.